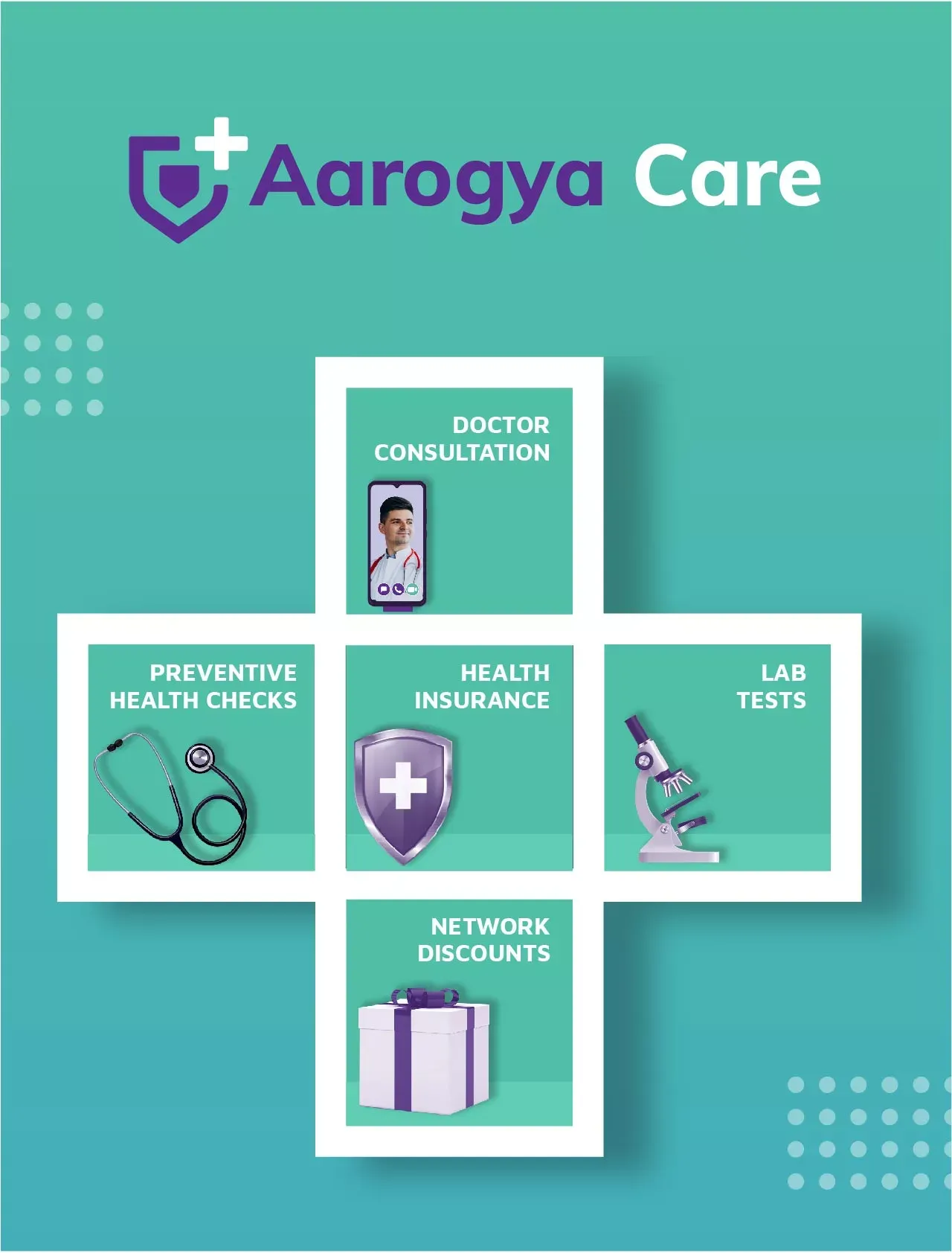 Plan Ek,

Fayde Anek
Get More than Just Insurance!
18 Benefits
Complete Health Solution
Gold Pro
Doctor Consultation
Claim upto ₹17,000
Lab Tests
Claim upto ₹12,000
Health Checkup
45+ tests included
Price Starting @
₹ 492
Per month
Your health matters to us!
Get personalized quote now.
Share your details to get the best possible
premium on your health plan
Healthcare plans starting at
 Rs.492/month
A healthier future awaits for you!
Why settle for only insurance?
When you can have a 3-in-1 health plan with wellness + insurance* in easy EMIs
Consult Top Doctors
Claim upto ₹17,000
Lab Test Benefits
Claim upto ₹12,000
Preventive Checkup
Pay Zero,Go Cashless
Network Discounts
Upto 10%
Don't Miss Out on

Our Key Features
Pre-and post-hospitalization

cover upto 10 Lacs

COVID-19 hospitalization

coverage

Cashless claim

process in less than 60 seconds

Available in

Easy EMIs

Preventive

as well as wellness benefits
Here are the Coverage offered by
Bajaj Finserv Health
What's Covered?
What's not Covered?
Pre-hospitalization expenses
Pre-hospitalization expenses including medical costs incurred due to illness or injury within 60 days before hospitalization.
Small surgery and organ transplant expenses
Day-care procedure expenses and small surgeries in IPD & expenses incurred due to organ transplant
Explore Our

Robust Network
1000+

cities
5550+

hospitals
Gather all required documents and download the claim form
Know More
STEP 1 :
Download Claim Form
Read our policy document to know more.

Download now
Why you should buy

Complete Health Solution Gold Pro

online?
We pay all for your medical care needs
Preventive health check-up
Get preventive health check-up packages with full body check-up & 45+ tests at 3400+ partner labs and 700+ hospitals PAN India.
Doctor Consultation & Lab Tests Refund Benefits
Teleconsult or book an in-clinic appointment with doctor of your choice across 35+ speciality at any clinic or hospital PAN India and get the consultation fee reimbursed to upto ₹12000
Visit any lab or radiology clinic or book a lab from our wide range of network partners and get your fees reimbursed upto ₹ 10000
Get 10% network discounts across Bajaj Finserv Health Prime network PAN India. Use it at top hospitals, pharmacies, labs and more.
Get medical cover upto 10 Lacs covering costs of pre-and post-hospitalization expenses.
Just 2 Mins
To get insured
60 Seconds
To get paid and moving
92.1% Claim
Settlement Ratio
Hear from our
happy customers
I am indeed glad I bought the Bajaj Finserv Health plan. I find that I am not so financially burdened, and I can get timely medical help as well as tests done at the best facilities without much further thought. I would highly recommend.
---
Rajiv Singh
Policy Holder since 2020
Terms & Conditions
Insurance T&Cs are now simplified
Get Quick Customer Support
Available 24/7
Book Your Slot
'Book your slot and we will assign one of our certified experts to help with your queries'
Schedule a call
Call us directly
020-66847333
Write to us
Get quick replies